1. Determine objectives and strategic approach to innovation
The first step in the strategy choice cascade is to define your winning aspiration. In other words, your innovation objectives and the why behind your innovation strategy.
As any other strategy, the planning process of your innovation strategy starts with defining your objectives: What do you want to achieve with innovation?
If we take a step back, think about your long-term business goals and the things that are most likely to drive your business forward even after some time. As already mentioned, your innovation strategy should help supporting your business objectives and vice versa.
An example of a good strategic approach introduced in Playing to Win is Olay. Olay's winning aspiration is to become a leading skincare brand that wins convincingly in their chosen markets and channels. Along with hair care, it will help establish a key pillar in the Procter & Gamble beauty-care business.
It's likely that your approach to innovation will be something different. Typically, there are two different approaches to innovation strategy: business model innovation and leveraging existing business model.


Business Model Innovation
Business model innovation is the development of new, unique concepts supporting an organization's financial viability, including its mission, and the processes for bringing those concepts to fruition. The primary goal of business model innovation is to realize new revenue sources by improving product value and how products are delivered to customers.
The purpose of business model innovation is to address the choice of target segment, product or service offering, and revenue model. At the operating model level, the focus is on driving profitability, competitive advantage, and value creation.
Business model innovation is the art of enhancing advantage and value creation by making simultaneous — and mutually supportive — changes both to an organization's value proposition to customers and to its underlying operating model. — BCG

Business model innovation requires a deep understanding of your company's competitive advantage and can be approached in four different ways: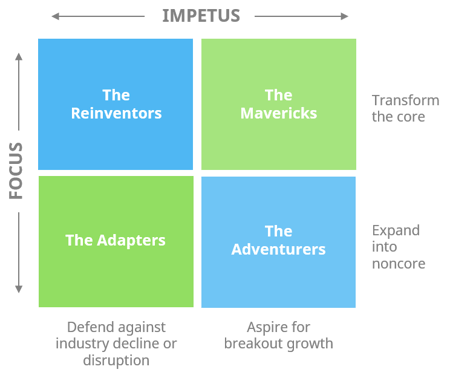 Leveraging Existing Business Model
Leveraging existing business model refers to continuous improvements and incremental/sustainable innovations. As opposed to the business model innovation, the strategic focus with organizations that leverage existing business model is on improving the core business rather than building new business models to create new value.
Based on these two approaches to innovation, we can identify three innovator archetypes: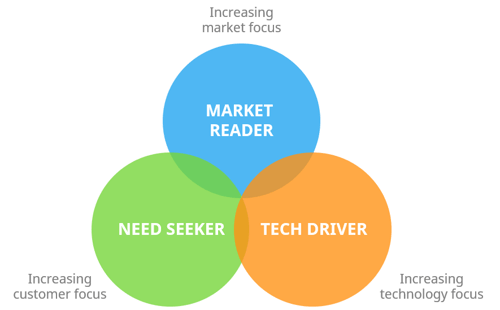 2. Know Your Market: Customers and Competitors
The second step in the strategy choice cascade is defining the right playing field, as in, the market you're operating in and the customer segment you're offering value for.
To be able to innovate and to respond to your customers' needs, you should listen and understand what your customers really want and remove the rest. To be able to do that, knowing what happens in the market is essential.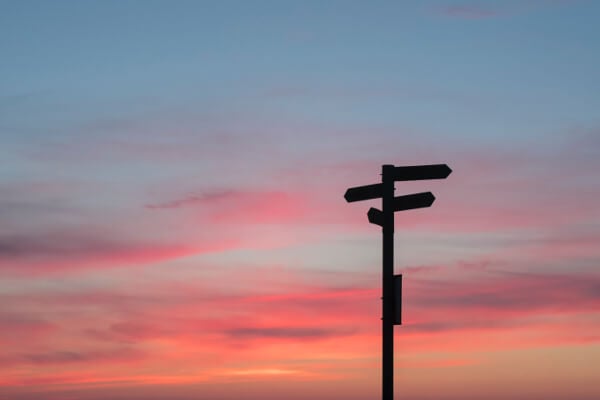 However, because competitive needs are individual and often very specific, a strategy that worked for another player in your field shouldn't be copied but learned from. Although defining your playing field is important, your unique value proposition is what will make or break your innovation strategy.




3. Define Your Value Proposition
Next, and probably the most important step is to define that unique value proposition. How will you win? What type of innovations allow the company to capture that value and achieve competitive advantage?
Because the purpose of innovation is to create competitive advantage, you should focus on creating value that either saves your customers money and time or makes them willing to pay more for your offering, provides larger societal benefit, makes your product perform better or more convenient to use, or becomes more durable and affordable compared to the previous product and the ones in the market.
To be able to create a unique value proposition, the ability to identify and exploit new uncontested markets is recommended. This can be done through value innovation.
Value Innovation
Value innovation was first introduced in the HBR article called Blue Ocean Strategy and later in the classic book bearing the same name.
The purpose of value innovation is to achieve sustainable competitive advantage by looking beyond your current understanding of the industry and reforming your value proposition to stand apart from the competition.
Securing new competitive advantage is done by making competition irrelevant, also referred to as the blue ocean. To succeed, one must adapt existing products or services through differentiation and lower cost.




Often, companies imitate their competitors offering slightly improved products and services with slightly more competitive price. Because rivals and imitators are about to attack fast, both the value proposition and the profit proposition should be outstanding.
This makes your business model more difficult to imitate and gives the best chance for you to be able to swim in that blue ocean.
To reach value innovation, try to clarify which customer segments your competitors are focused on, and how do these segments overlap with the ones your new offering targets. Is it possible to adapt any of your existing products to differentiate them further for the geographies or segments that will face the most pressure?


4. Assess and Develop Your Core Capabilities
The first three steps in the strategy choice cascade really come down to one thing; your fundamental capabilities required for winning.
When assessing your set of capabilities that need to be in place, consider the following:
Culture
R&D
Behaviors
Values
Knowledge
Skills
For example, if you want to win at delivering breakthrough technology, you must have internal skills and knowledge to be able to build that. The ability to connect and develop these capabilities is key to innovation.


5. Establish Your Innovation Techniques and Systems
Last but not least, to be able to execute your innovation strategy in a scalable and integrated manner, you should find out what systems need to be in place.
Define: which innovation techniques and systems do we need in to be able to link our innovation infrastructure elements together? What are the most important systems that support and help measuring the results of our innovation strategy?
According to a recent study, Christopher Freeman defines the system of innovation as 'the network of institutions in the public and private sectors whose activities and interactions initiate, import, modify and diffuse new technologies'.
This includes the following elements:
The role of company R&D, especially in relation to technology
The role of education and training related to innovations
The conglomerate structure of industry
The production, marketing and finance systems

The Play-to-Win Strategy Canvas
Now that you know which strategic choices you need to make in order to succeed in innovation, you should map these choices. This will help you to identify what must be true for your strategy to be valid.